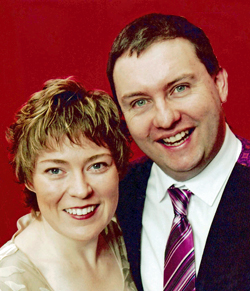 KiwiProperty.biz was established in 2004 by Melbourne-based authors Sigrid de Castella and Antony Anderson to help other Australians navigate the often rough seas of investing internationally into New Zealand property.
The decision to invest in New Zealand property first presented itself when they were listening to an audio series on property investing and the speaker suggested that they should get out from their own back yard of Melbourne, and invest farther afield. With yields in Melbourne sinking to 5% and below the decision to invest in NZ was a 'no brainer', and they found yields of 16% and more easily.
However it turned out actually investing in New Zealand property was not as easy as they first thought !
They refused some very tempting purchases in order to research every facet of this investment opportunity, including bi-lateral taxation and legal implications, without which could have severely negatively impacted their long term returns. The delay - more than 12 months - enabled them to create a solid New Zealand property portfolio that was self-funding from day one.
Since then they have learned first hand the highs and lows of being 'absentee' landlords, discovered the hard way how to protect their properties against bad tenants poor property managers and tradesmen who take advantage of unsuspecting Australian Investors.
Since establishing their New Zealand portfolio and launching the book, Sigrid and Antony continued to expand their property empire in Queensland, Melbourne and the USA, as well as other business opportunities. 2012 sees the relaunch of "The Guide to New Zealand Property Investing ~ Australian Edition" made popular through Australian Property Investor Magazine.
The book is now available at a special reduced rate and KiwiProperty.biz subscribers will also get a free annual companion book (released each January) with updates to relevant chapters so you can be assured that the current information is at your fingertips to help you achieve your international investment goals sooner.
The authors, who still invest in New Zealand property, now have more than 16 years of combined experience there, and together they have over 31 years of Australian property investment experience that you can tap into to leap frog your own investments.