If You're Thinking Of Investing In NZ Property...
Don't Do ANYTHING Until You Read This Book!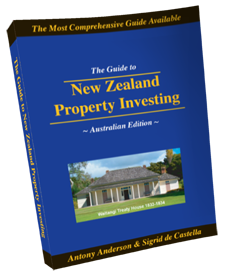 The Guide to New Zealand Property Investing (Australian Edition) is a 224 page tool box of information jam packed with tips and techniques for successful New Zealand property investing, written by Australians, for Australian investors.
"Many Australians think that the New Zealand property market operates exactly the same way Australia does ... ... but they couldn't be more misled."
"The Guide To New Zealand Property Investing" outlines from start to finish the things that new investors to this market need to know.
Why your personal strategy is so important to your international investment success
The different methods of structuring your investments so that you can maximise your position
How to avoid overseas investment pitfalls and discover fantastic opportunities
How New Zealand real estate works including how to find a property, make an offer and settle easily
All you need to know about managing, tenanting and insuring your property
And much more …….
"The real barrier to investing in a country like New Zealand is understanding the international issues and then determining the right investment structure to use."
This book is the product of ten years of property investment experience and two years of intensive research into the New Zealand market. It's written by Australian property investors specifically for Australian investors, and The Guide tackles the following topics:
New Zealand's Property Boom: A discussion of the factors driving the property boom in New Zealand.

Strategy Is Everything: Outlines the different investment strategies, such as Buy and Hold, crucial to determining the investment vehicle required.

Structure Yourself Right: Four main investment vehicles (or structures) are presented in summary, along with a breakdown of the pros and cons for each structure.

Taxation: A discussion of the taxation issues to consider including Bi Lateral Taxation, GST, Depreciation, Capital Gains Tax and Land Tax as well as information on foreign and investment residency, tax credits and legal requirements.

Banking On It: Introduces readers to NZ banks, alternative lenders and brokers. This chapter also deals with banking concepts such as LVR (Loan to Value Ratio), DSR (Debt to Service Ratio), UMI (Uncommitted Monthly Income), lending requirements and interest rates in an effort to help readers improve their borrowing capacity.

Finding A Property Or Two: An exploration of the different types of properties includes the advantages and disadvantages of each. Five techniques to find properties are included with further discussion to help readers understand the market place and perform their due diligence.

Making An Offer: Explains the purchase contract, conditions of sale and the negotiation process that all differ vastly from that in Australia. A number of beneficial contract clauses are provided for the reader's use. Further information on building inspections and LIMs is also provided.

Settling The Property: Property settlement is fundamentally different in New Zealand. This chapter explains why you need to find a good lawyer and the general settlement process.

Insurance – Peace of Mind: Few investors realise the benefit of adequate insurance until it's too late. The types of insurance available are discussed from a New Zealand perspective.

Property Management: The key to successful property investment is in property management. An understanding of lease periods, tenancy laws and dispute handling is vital regardless of whether you are self managing or using a property manager.

Ensuring The Property Stays Let: A flow on from Property Management explains some of the common mistakes some landlords make.

Sure Fire Strategy: A checklist of the readers strategies and resources for strategy accelerators including contacts in New Zealand.

Regional Analysis: A breakdown of the three largest cities in New Zealand and a discussion of smaller towns to help familiarise the reader.

The Seven Steps To Success: This chapter deals with the importance of goal setting, which the authors have outlined in 7 simple easy to follow steps.

Resources: Includes Recommended Reading, Formulas, Glossary and References
Testimonial
"If you are serious about investing in New Zealand property, this book is THE essential guide. It contains vital information and covers more topics than any other book I have encountered to date."
Frank Febo
Property Investor and Developer
Melbourne, Australia
Think how many hundreds or thousands of dollars this book could save you alone.
It's amazing value at it's
original cover price of AUD $49.95
But Wait .... there's more !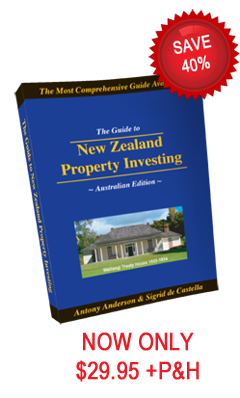 Buy the book and subscribe to our mailing list and you'll also receive the annual bonus update book which includes:
Updates to country outlook and regional analysis
Updates to taxation and depreciation legislation
Automatic release of updates for life
Be the first to hear about new products and seminars on property investing before we go to market
plus the ability to tap into our tried and trusted newtwork of people with the right advice
And for a limited time we've also taken 40% off the original cover price so it's yours now for a tiny teeny weeny $29.95 plus $6.95 Postage and Handling.

Total Price AUD $36.90 - Australian delivery addresses only
International enquiries please email info@kiwiproperty.biz
And We Guarantee You'll Love It or Your Money Back

We're so sure this is the ONLY book of its kind on the market that we offer a 100% Money Back Guarantee




If after 60 days you are not completely satisfied for any reason at all, simply return the book in original condition at your expense for a full, courteous, no questions asked refund (excludes postage and handling).